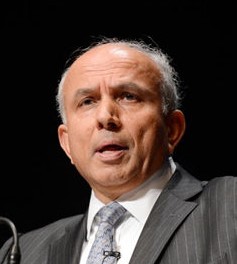 V. Prem Watsa
In 1985 Prem took control of Markel Financial which was controlled by the Virginia based Markel family. In 1987 he then reorganized and renamed it Fairfax Financial Holdings Limited. He has served as Chairman and Chief Executive Officer since its inception.
Since 1985, Fairfax has compounded book value and stock price by about 19%. Fairfax has total assets of approximately US$50 billion, revenues of approximately US$12 billion and common shareholders' equity of approximately US$11 billion. The company is listed on the Toronto Stock Exchange.
He holds a Bachelors Degree in Chemical Engineering from the Indian Institute of Technology in Madras, India and obtained his MBA from the Richard Ivey School of Business at the University of Western Ontario. He is also a Chartered Financial Analyst. He holds an Honorary Doctorate of Laws from the University of Western Ontario, an Honorary Doctorate of Sacred Letters from Wycliff College of the University of Toronto and an Honorary Doctorate of Divinity from Tyndale College.
He is a member of the Sick Children's Hospital Foundation and is Chairman of their Investment Committee, member of the Advisory Board for the Richard Ivey School of Business, member of the Board of Directors of the Royal Ontario Museum Foundation, Lead Director on the Board of Blackberry and Chairman of the Investment Committee of St. Paul's Anglican Church in Toronto. He is on the Board of Horatio Alger Association U.S. and President of Horatio Alger Association of Canada.  He is Chairman of Fairfax India.  He was formerly Chancellor of the University of Waterloo and on the Boards of the Bank of Ireland and of ICICI Bank.  He is a recipient of the Order of Canada.