2-YEAR COACHING PROGRAM
PROGRAM OVERVIEW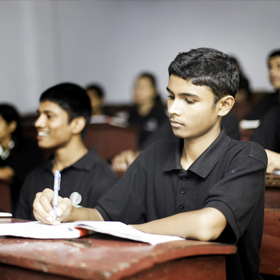 PROGRAM OVERVIEW
Dakshana offers the 2-year coaching program exclusively to students of Jawahar Navodaya Vidyalayas (JNV). Dakshana has inducted 5000+ students in this program since 2007. More than 1,632 of Dakshana Scholars, till 2, have cracked the JEE Advanced to secure admissions into IITs, while the others have cleared the AIEEE or JEE Mains to pursue an education in engineering and science at premium institutions like NIT and others in the country. One in every two Dakshana Scholars has cracked the IIT entrance examination.
Dakshana's 2-year coaching program currently operates at 6 JNV Campuses:
JNV Bengaluru Urban (Karnataka), JNV Bundi (Rajasthan), JNV Kottayam (Kerala), JNV Lucknow (Uttar Pradesh), JNV Pune (Maharashtra),  JNV Bengaluru Rural (Karnataka)
The first-of-its-kind Dakshana-Navodaya Centre of Excellence (COE) commenced at JNV Bengaluru Urban in the year 2016. This is an excellent model depicting the success of the private-public partnership between Dakshana and the Government of India.
FELLOWSHIP YEAR OVERVIEW
Dakshana selects students for coaching, while they are in Class 10, based on their performance at Dakshana's proprietary test – Navodaya Dakshana Selection Test (NDST).
Navodaya CoE Selection Test (NCST)
The NCST is conducted simultaneously at 600+ centres across India every year. The test is divided into four parts: Logical Reasoning, Mathematics/Biology, Physics and Chemistry. The subject-related questions follow the NCERT syllabus of Class 9 and Class 10, although the level of difficulty for questions might be higher.
Eligibility
Dakshana invites JNV students for NCST, through their schools, based on merit at internal examinations during Class 9 and 10. Dakshana accepts these results only from the JNVs through their respective NVS Regional Offices. Non-JNV students are not eligible for this program.
Process
Once invited for the NCST, a JNV student must fill the NCST application form on the Dakshana website. The Dakshana website posts the list of students invited for NCST a month before the test. The results of NCST are normally declared in the first week of April/May. A scholar, who receives the Dakshana coaching opportunity, then goes to an assigned JNV where Dakshana provides world-class quality preparation for the IIT or medical Entrance Exam.
Help us Change the way the world tackles poverty
DONATE

You can lift a family from poverty permanently and help get the scholar accepted by an IIT or a government medical college in India.

DAAN (Dakshana Alumni Network)

DAAN (Dakshana Alumni Network) is a 2575+ (in 2017) strong army of volunteers supporting Dakshana to forge ahead on its mission of infinite good

VOLUNTEER

Want to change the world? Volunteer at Dakshana.

JOIN

Team Dakshana is made up of dedicated individuals who believe they can make a difference in the world. Join us. The world needs leaders like you.
Join Us
Stay up-to-date on the latest news and updates and help us by spreading the word.