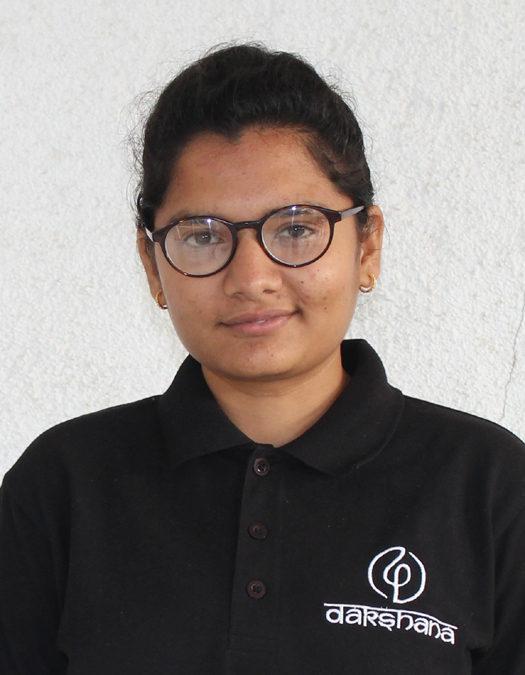 Shraddha Babruvhan Holambe
Fergusson College, Pune
I'd like to become a Dakshana Scholar and hopefully attend Medical college
I would like to become Dakshana Scholar and hopefully attend Medical college because : It's my aim to be a Gynaecology Doctor and yes i can do it !! As i like this branch . I belong to very poor family background my father is Teacher. My family loves me lots & they inspire me to stand on my own feets. i work hard so, that i can get addmision in Dakshana Campus.so, i am very lucky! In privious NEET exam i will get 275 marks .because i don' t solve physics question. All stuent say that physics is very hard subject but in real facts physics is the most powerful & imaginary subject. I think in dakshana campus my all related problem of physics will be solve Dakshana Campus givies a burning desire to all the student to complete their own aim Dakshana is only one instituent can provide proper guidelines &helathy enviroment for study so, that i can give my best in NEET 2018 exam & achieve my goal. I want to become God' s doctor . i.e.- The people who don't have any money to complete their own life process.My help to very poor people. "GodHelps Those Who Help Themselves "
Dakshana is one of them. My target is to getting a goverment college. According to me i complete my goal because of Dakshana campus. My father every time said me :-
"" Bujhi hue shama phir se jal jayegi ,
Tufaan main ho kashiti nikal jayegi ,
Himmat na harr mehenat karti chal,
Dekh teri kismat phir se bdhal jayegi.""
This sentence will movtivated or inspired to me.
Thank You!
From Fergusson College, Pune
Coaching location: Dakshana Valley Pune, Maharashtra. (NEET 2017-2018)
Coaching Location: Dakshana Valley
Batch: NEET 2018
Scholar Form