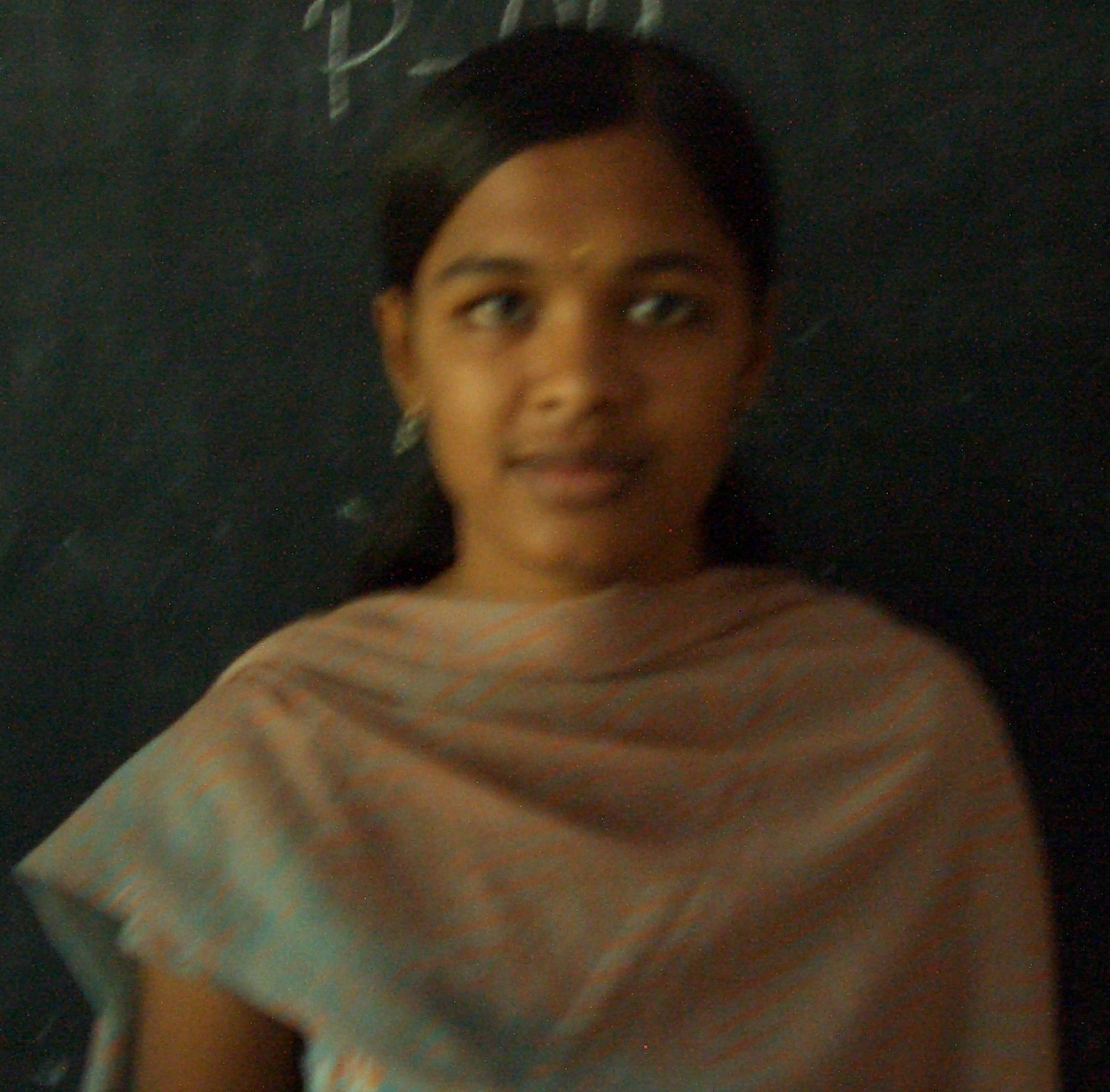 H. S. Sarojadevi
JNV Yadgiri (Gulbarga)
I'd like to become a Dakshana scholar and hopefully attend IIT
Even now, before joining the IIT course, I feel proud of myself for studying in a J.N.V C.B.S.E. school because my native place is a small village where all the parents used to send their girl children to only common village schools. But because of my brother and sister, who also learned in J.N.V. up to class seven, and by their guidance and suggestions, I also was selected into and joined a J.N.V. (standard school).
My sister always used to say to me that up to class ten, what I have studied is for examination purposes, but after class ten, what we will study is for our future life's development and purpose. Most of the basics of our future examinations are like any competitive exams. C.E.T. exams will be in classes six and seven only, but in our J.N.V. at Gulbarga, most of the students think, after the class ten board exams are over, "Let us take a rest again for the class twelve board exams. We will have to read then, but now we well not read." Like that, the students (including me) used to waste time simply by doing other work.
In this situation, my own sister, brother, and our Vidyalayas twelve students always used to say to us, "You will not realise the importance of class eleven now, but you will suffer in the future. Then you will realise, and again you will go for tutoring or coaching by spending a lot of money." Whenever I heard these words from them, I used to read. I would open the books, but I could not concentrate on them at that time because there was no study atmosphere around me. Moreover, all the rank students went outside to study, so I felt that I also had to go out to this school where all students (my classmates) were studying hard. But luckily, I think God listened to my words and he blessed "Tathastu." After two days, our maths teacher came to our class with the very sweet news that I had been selected for the IIT-JEE course. It was really good news for me. I said my thanks to our sir and to the Dakshana Foundation.
Then, I started to think, "What will be there in Pondicherry J.N.V. that is also like Navodoaya Vidyalaya? What is special there?" Again, I inquired of our sir, and he told me that there is online coaching for two years, eleven and twelve. You can study there only once you ask your parents whether or not they are willing to send you for two years. My sister and brother andl all our teachers told me, "When Saraswati Lord is calling for you to join her bhaktas, why are you thinking about going or not?" Then I decided I must go to Pondicherry, and take the IIT course. I could not study here.
I am very thankful to the Dakshana Foundation for giving this type of coaching to the students who could not take coaching outside by paying a lot of money. I am feeling proud of myself for being a member of the group of IIT students. My parents, sister and brother are also proud that I am taking IIT coaching for two years. My school is also proud. All this pride has arisen in all these people only because of the Dakshana Foundation. Many schools and parents may feel proud like this because their children also came over here to take IIT coaching.
But still we feel bad to leave our parents for two years. But after two years, we can see our parents and enjoy them. Parents will always be there, but we cannot always get this type of opportunity, so I decided firmly to take the IIT course for one and a half years.
I cannot find words in English to further express my views about the Dakshana Foundation. I am very thankful to all the people at the Dakshana Foundation and to our school teachers for providing me with this opportunity.
From JNV Gulbarga, Karnataka.
Coaching Location: JNV Puducherry, Puducherry (UT). (IIT-JEE 2008-10).
Current Institute: Manipal University
Stream: MBBS
Yr of expected graduation: 2016
Note: This is an exact reproduction of the essay sent to us.
Coaching Location: JNV Puducherry
Batch: JEE 2011
Graduation College: Manipal University
Stream: Medicine
Scholar Form