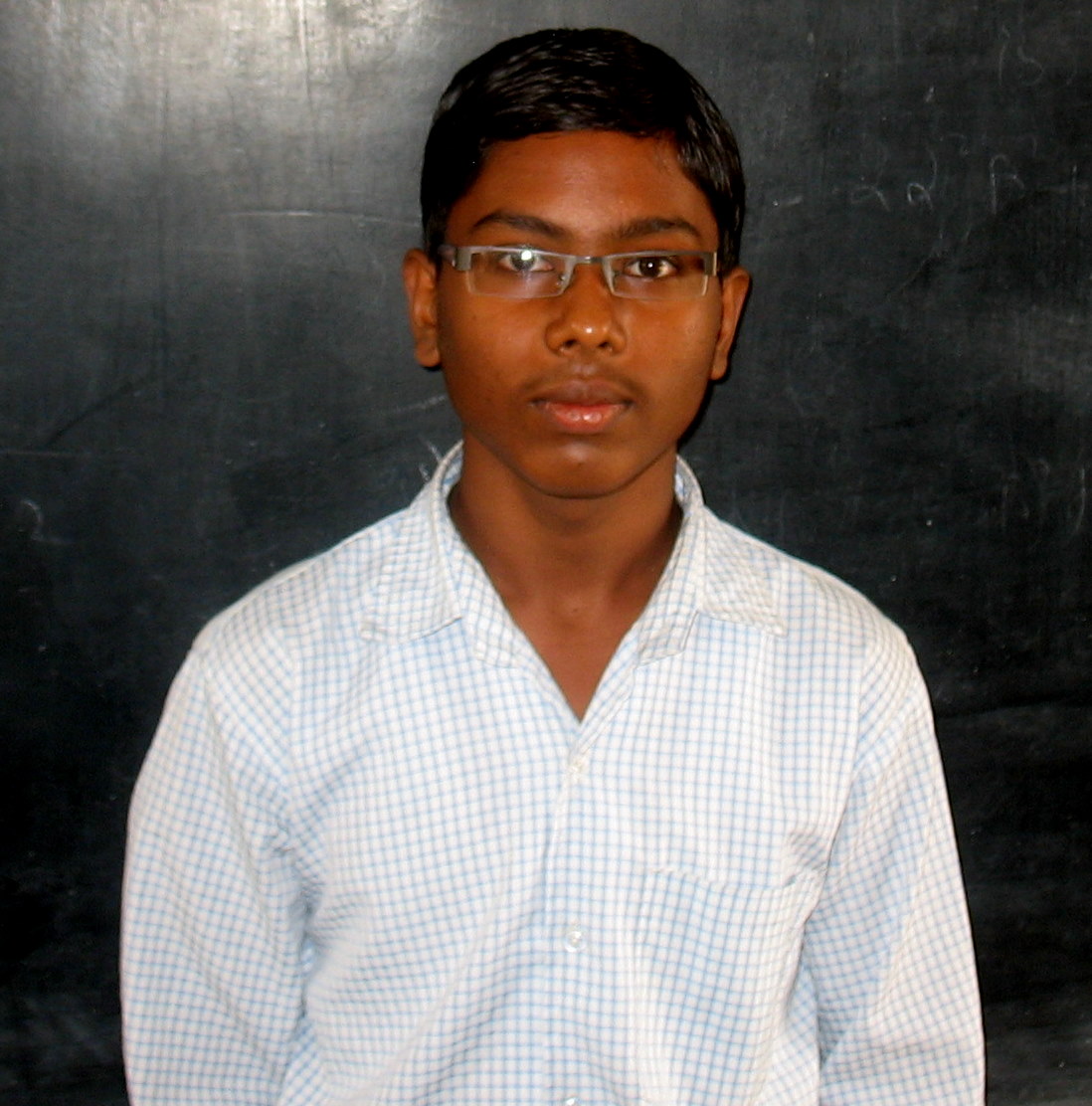 Vikas Sheel
JNV Kanpur Dehat
I'd like to become a Dakshana scholar and hopefully attend IIT
My name is Vikas Sheel. I come from a middle class family. My father?s name is Morari and my mother?s name is Shrimati Navdharani. We are two brothers and one sister. My father managed to study very little with great difficulty. He does not want to leave any stone unturned for educating me. I will follow the footsteps of my elder brother and sister for studying in the manner in which they have studied. I did my early education from a primary school and had applied to Navodaya Vidyalaya in class 5.I could not believe that I got selected in entrance test.I always followed my elder brother who also studied at Navodaya Vidyalaya.he worked hard and got through AIEEE in 2009.He is 2 years elder to me. He and my family have a lot of expectations from me. He does care about himself but wants me to go through the coaching for IIT.I was always a better student than him in Maths. I scored more than him in my 10th standard. He said that he believed in me that I would make it to the IIT. When I told my family that I have been selected by Dakshana, they were very happy. When I had gone to appear for the examination, My heart was beating very fast.Dakshana is an organization which provides education for free to poor children and at the same time also provides them with books. This was a very good opportunity for me and I hope that I am successful. I could have afforded for the books if Dakshana had not given it to me. I will always be grateful for that. I have achieved whatever I have till date with the blessings of my parents and teachers.Further in life , I will help in educating my younger brothers who cannot afford the books for IIT.I am at place where my destination is not very far. I will work hard and with the help of Dakshana , will fulfil all my dreams. I want to achieve success in life and do not want to be a burden on my family.I want to do some work in life for which my family feels proud about me.
I did not have any idea about the paper because I did not have any prior information about it. I always thought that If I pass it would be nice because my father was not capable of educating my brother, my sister and me together.I thought that if I would not get selected then I would complete my education in the Navodaya vidyalaya. 3 of my seniors were studying in Dakshana, Lucknow. They asked me to appear for the exam with a relaxed mind. Inspite of my paper not going so well, I was not unhappy. I was sad when the result was not out. Other students in my class said that if I got a chance , I would surely get selected.After some days , my principal called me and said that I have been selected for the Dakshana coaching and am one among the 48 scholars.When I told at home , everybody and amongst them , my elder brother was the happiest. I got to know that I would have to go to Bangalore. I went home for one day to collect my baggage. Everybody congratulated me and spoke very highly about my father. I was very happy that I had to go out for a year and then had to join IIT also. As I had been living outside, everyone said that I would not have a problem to adjust in Bangalore. Whenever anyone asked , I told that I have been selected as one of the 48 Dakshana scholars.
From JNV Kanpur Dehat, Uttar Pradesh.
Coaching Location: JNV Bengaluru Urban, Karnataka. (IIT-JEE 2009-11).
Current Institute: IIT-BHU, Varanasi, Uttar Pradesh
Stream: Civil Engineering
Yr of expected graduation: 2015
Coaching Location: JNV Bengaluru Urban
Batch: JEE 2011
Graduation College: IIT (BHU) Varanasi
Stream: Civil Engineering
Scholar Form