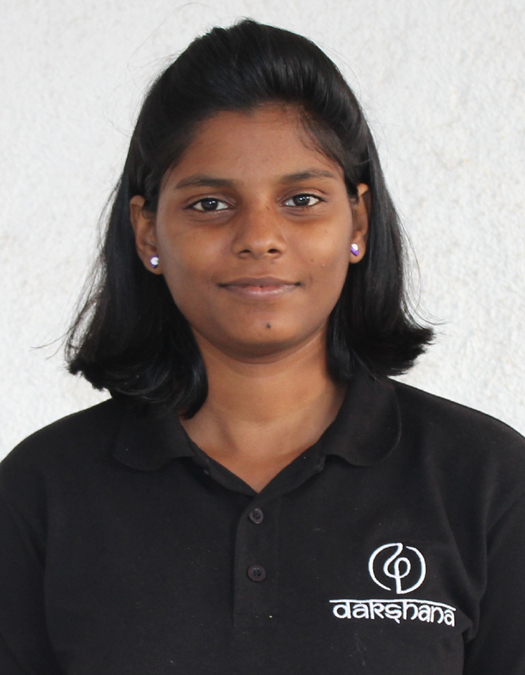 Supreeti Sahoo
JNV Cuttack, Odisha
I'd like to become a Dakshana Scholar and hopefully attend Medical college
I want to be a good doctor & help the people who are not getting proer
medical care .But it seems very difficult to fulfill this dream because
my parents cannot afford a good coaching centre for me.Nowadays
education has become a business.Everybody just wants to earn money
through education.So nowadays coaching centres are sprouting like
mushrooms.But their intention is only earning money from people.They
rarely give a quality education.And those institutes which give quality
eduation demands huge money ,which cannot be afforded by the student.
Dakshna is really doing a great job.They are not taking education as a
business.They are taking talent as business & investing on them & getting
100% output(i.e 100% result).They are not demanding even a single rupee
from the scholars.I am very thankful to the founder of Dakshana for giving
me a chance to study in this worldclass institute.Dakshana is a bridge for
poor scholars to get NEET/IIT.I am from JNV.I have studied last 7 years
in JNV without paying single money, as it a govt. school.But Dakshana is
private institute & just investing on talented people.Money often supresses
dream of many students,but for a dakshana scholars money is not an
obstacle because Dakshana is giving free coaching to the poor people.
Dakshana is a branded factory for producing good doctors & engineers.
I think this is the first institute which is providing worldclass coaching,
boarding & that is free. Goodness starts from here.So I want to be a
part of that goodness & want to do good for our society in the field of medicine.
Supreeti Sahoo
18126070601
From : JNV Cuttack, Odisha
Coaching location: Dakshana Valley Pune, Maharashtra. (NEET 2017-2018)
Coaching Location: Dakshana Valley
Batch: NEET 2018
Scholar Form