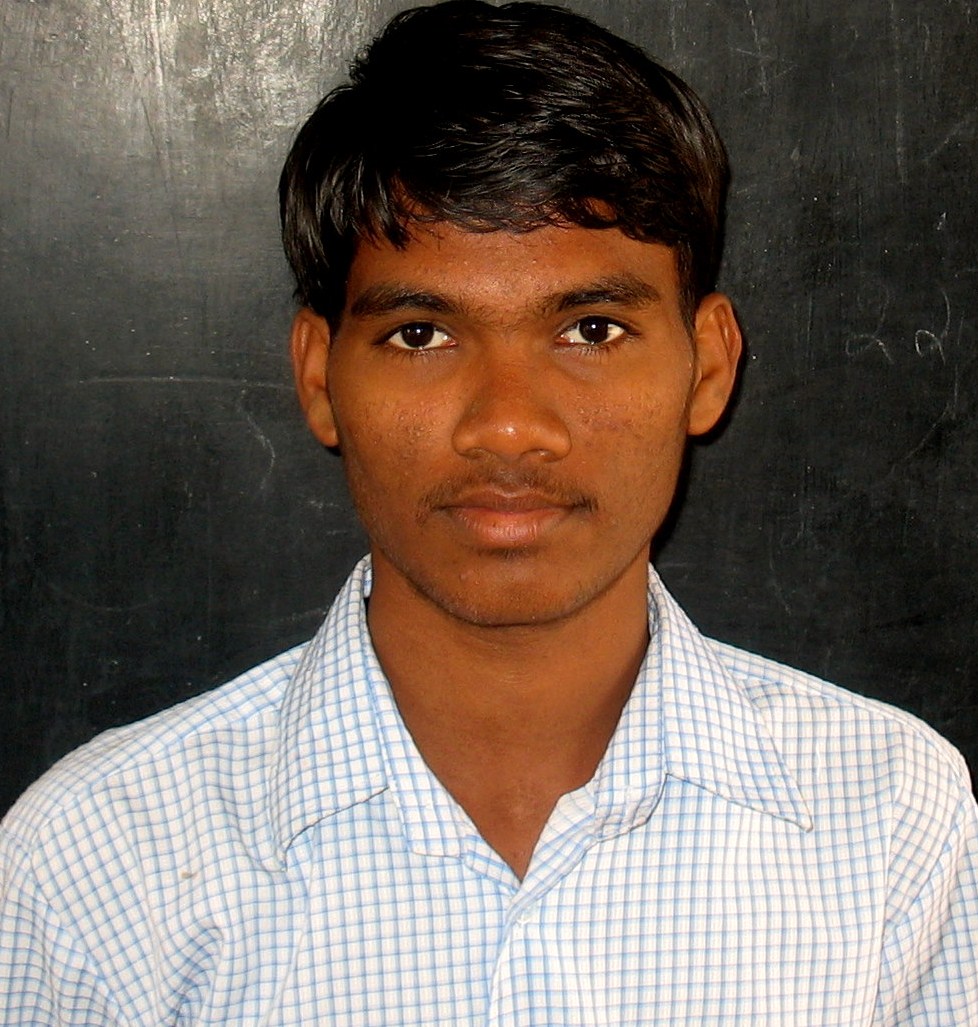 Srikanth Pachala
JNV Guntur
I'd like to become a Dakshana scholar and hopefully attend IIT
Myself Srikanth P and my family consists of 6 memberrs including my father and mother. We all of four children among which I am the elder brother for 2 sisters and little brother. My father studied MA of course but luck did not give him anything. He did not get any job and is now working as security guard in a small company. My mother broght new lifestyle for my father with the help of my mother?s family ( grandfather, uncle) financial help only we we used to have some necessary things in life. So from beginning only I know whole responsibility is mine to give happiness , strength , name to my affectionate family all my father?s bad luck turned into luck in my case I can say because till now from 1st standard I am studying with government support only. Of course from class 1 only , I could find something extra ordinary in me . I can say I am very sensitive , humble towards elders , self evaluator from my childhood. After joining in JNV Bangalore for IIT coaching our welcome programme gave me a lot of inspiration and it gave me strength to work hard and after starting of classes I then thought Dakshana made it very excellently that it brought a mini India into this classroom. After sharing my feeling with some of my classmates , I can find much similarity . All of them are having a family background almost like me and their responsibility is more now . They can become concrete base for their family. Dakshna is really great. In future, I also want to become a part of Dakshana. Really from all over India selecting students with poor family background of course all these 48 are gems as far as their intelligence is concerned .I never think in my life that I will sit with a person who belongs to Arunachal Pradesh , Himachal Pradesh and take this IIT coaching of course test conducted by Dakshana is also very good. I am promising that I will put my best effort to achieve my goal. Really once again a healthy thanks to Dakshana and to the part of this institute. Really CEO sir gave me much inspiration and instructions. Thanks to you once again.
Till now in my life I achieved three things because of which I feel proud of myself.
1. Getting into Navadaya vidyalaya
2. Getting 90% in 10th class and most important and at crucial time when I am in confusion about deciding to take decision whether I have to join in Navodaya for XIth or not. I was fully confused but I know the importance of XIth and XIIth classes at that time.
3. Most Life moulding opportunity came from Dakshana. I got into Dakshana when I came to hear that I am one among 48 students selected from all over India at that moment. I cannot find words to express my happiness. All teachers , mostly parents as well as classmates congratulated me . I felt very happy about myself .
Along with this happiness I have got much confidence in my deep heart. Now I can reach to that place for which many hearts were beating with double strength. Really Dakshana lais a path for me to reach my goal (destiny) . Now it is time to walk by balancing myself and focussing all my strengths (goodness) at a single goal. Really I am very grateful to Dakshana and its organizers.
From JNV Guntur, Karnataka.
Coaching Location: JNV Bengaluru Urban, Karnataka. (IIT-JEE 2009-11).
Graduated from: NITK Surathkal, Karnataka
Stream: Aeronautical Engineering
Placed at: Mu Sigma
Designation: Trainee Decision Scientist
Note: This is the exact reproduction of the essay sent to us.
Coaching Location: JNV Bengaluru Urban
Batch: JEE 2011
Graduation College: NITK Surathkal
Stream: Aeronautical Engineering
Company Name: Mu Sigma
Scholar Form