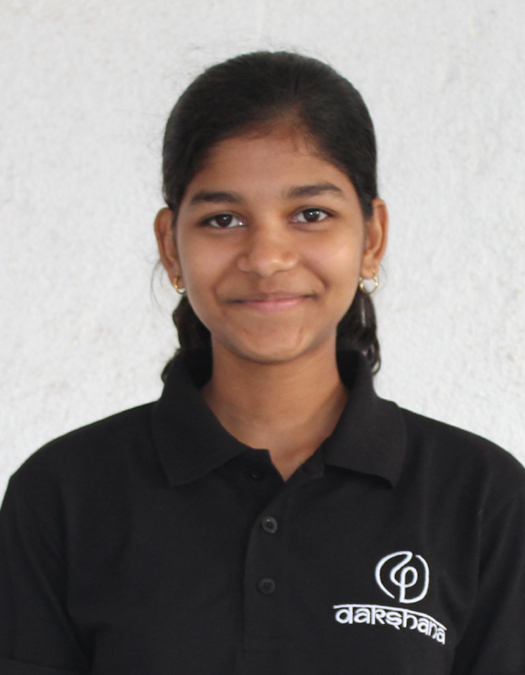 Shyamli Ghatage
KV 2, Belgaum, Karnataka
I'd like to become a Dakshana Scholar and hopefully attend Medical college
SHYAMLI BABU GHATAGE
I'd like to become a dakshana scholar and hopefully attend medical college because its my aim . and as im from a middle class family so who would not like to be a dakshana scholar. i feel proud to say that im a dakshana scholar .
This time i have came her with a burning desire to CRACK NEET 2018 .
To achieve my goal i'm ready to do hardwork as much as possible. Dakshana has their own routine which is healthy and beneficial for us .i think i would have never got this type of coaching .I feel im seriously so lucky . The very first reason to get addmission in dakshana is that if i will see my competitors studying then for sure i will try my level best to study more than them.
My mom and dad trusts me more than themselves so its for sure that i will never do those things for which my mom dad will feel ashamed of me .
Ok i want to share one experience of mine ,once i was feeling to go back home because this is my first hostel life but one day when my elder sister came to meet me ,after having a look in my room she said u r so lucky because IITians too does not get this type of faculty , u should feel proud to study here .after listening to her words i thought that really i was so stuid to think to go home but then i decided and promised myself that i will stay here and i will not waste a single minute of my life.MY MIND IS ALL SET NOW. I will work hard to get addmission in AFMC and i will make my parents as well as dakshan to feel proud . ans as i belong from a army bacground so i have a habit to live in clean and peace area and here im getting the same facility and to continue this i will have to get addmission in AFMC ,for which im ready to do hardwork as much as possible.
The last thing i would like to say is that i have came here for myself and to study and to acheive my goal.
From- KV 2, Belgaum, Karnataka.
Location-Dakshana Valley Pune (NEET 2017-18)
Coaching Location: Dakshana Valley
Batch: NEET 2018
Scholar Form