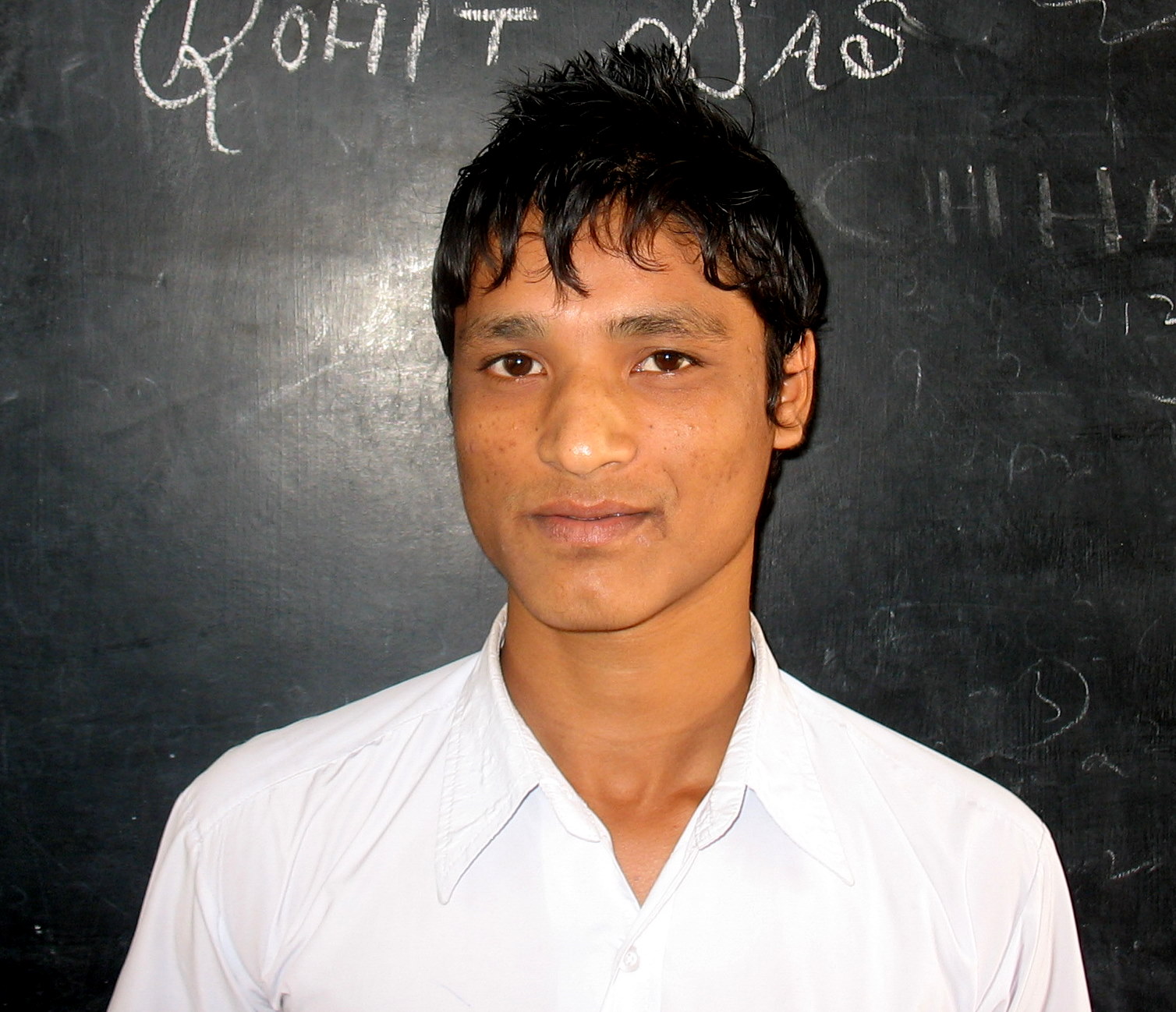 Rohit Das
JNV Golaghat
I'd like to become a Dakshana scholar and hopefully attend IIT
At the beginning I would like to give you some information about me. You might not be interested in my writing as because I am a small child of about 16. It is not only you but all the people of this as they think what would he do by knowing my background or feelings. I am not a famous boy like Amir Khan, Sachin Tendulkar etc. but you have given us an opportunity to write our feelings. So, I am really thankful to you and all the members of Dakshana Foundation. You might be feeling that what is this boy writing. It is only wasting of time. But, I am writing it from my heart.
My father?s name is Mr Hrishikesh Das and my mother?s name is Mrs Nirupama Das. In our family we are father, mother, me and two brothers Rahul and Rohan and I can say that we have a happy life. My grandfather?s house is very close to us, it is about half a km from our home. When I was eleven years I got selected in Jawahar Navodaya Vidyalaya Galaghat. I was happy that I am selected but when I go there I was very upset and I was thinking why I came here? Why god selected me? But as the days go by my feelings also changed and I have grown up a healthy relationship with that school. And the years goes in Class X I got selected for migration to Jharkhand and I was also willing to go there to see how they live there, what they eat etc. I also have same feeling in the beginning as I have in class VI. In that school also I grow up having a healthy relation. The best day of that year was when I played the final Cricket Tournament match between our school and another school. I forgot the name of the school with whom we had the final match and I scored 140 runs. And I was man of the match as well as the series. I was really happy on that day. You might be feeling bored isn?t you. I know but if I start writing I can?t stop. Let?s forget about that those were the past days. And we all very well know that past is past. And you know what I only believe in present. I didn?t believe in past and future. Because past is one which we had already gone through and it will never come back and future is about which is about to come and we don?t know when it will come, it will become present for us doesn?t it.
Now I am writing about Dakshana. First of all I would like to thank god as because he had made me such a lucky that I have been selected for Dakshana. When I got selected for Dakshana entrance test examination, at that time I was having no time to prepare for it. Then I feel that I have got a golden opportunity but I will miss it. Then I write the exam. It was not very good but good. Then one day evening, when my principal sir said that you have been selected for free IIT coaching by Dakshana in Bangalore Urban I was very happy. Then I came here and as all the people have the feeling in the beginning that why I have come here, I also have the same feeling. Then when I heard that there will be no vacation for the next two years I feel very sad. The principal mam said you will be going home only for 20 days in the summer then I feel very happy. And this is my request for you please give us vacation for atleast 20 days. I will be thankful to you. You might be bored, I will stop my writing here. But I am really and heartily thankful to all the members of Dakshana Foundation and all the faculty members who teach us and the members of this Jawahar Navodaya Vidyalaya Bangalore Urban for their co-operation and help.
Thanks.
From JNV Golaghat, Assam.
Coaching Location: JNV Bengaluru Urban, Karnataka. (IIT-JEE 2009-11).
Current Institute: Bangalore Institute of Technology
Yr of expected graduation: 2015
Coaching Location: JNV Bengaluru Urban
Batch: JEE 2011
Graduation College: Bangalore Institute of Technology
Scholar Form