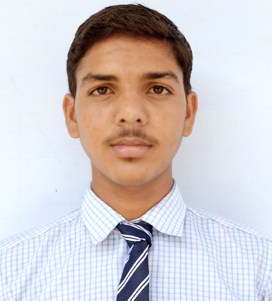 Naveen Kumar Meena
JNV Karauli
I'd like to become a Dakshana scholar and hopefully attend IIT
I'd like to become a Dakshana scholar and hopefully attend IIT becacse ,I am from a poor family and happy after joining Dakshana foundation because I got a golden chance to make my future. I will not waste this oppotunity and crack the IIT entranced test and then i will fulfil the dreams of my family. As our country is developing in the field of technoloy, i wil give my best in the same field to make our country developed one. I was a very week student. My teachers used to beat me daily.One day when teacher cracked me a lot, than signs on my back brought tears to my father's eyes. And he said me to not give a chance to anyone which make you wrong. He requested my teachers not to beat me and told them that you will not get any complain again. He explained me that you have to reach a level which was achived by people like A.P.J. Abdul Kalam.From that day I am working hard for my father's dream.This is the blessing of my parents that iam here (in the Dakshana foundation).
I am thankful to the Dakshana team for their cooperation in running this foundation which is making future of many students.I will remain loyalist to this foundation and discharge my duties so that this foundation can be proude on me.this is very good foundation filled with talents.And i want to serve my country and fulfil the dreams of my parents by working hard here.And i will get a lot of help from here for this purpose.I also want to serve the people of this country by opening such type of foundation. I want to serve this country in the field where it is week.I want to say to those children who are week (in studies)that don't give the hopesand work hard. Their parents should have sympathy for them and they should show them the way to achive their goals. It is said ( in hindi)
"tufano me hath udae rakhie, manjil pe najar jamae
kon kahata hai ki chalni me pani nahi rukta, barf jamne tak aas jamae rakhie".
Thanks for Dakshana foundation for giving me a chance to write my views.
From JNV Karauli, Rajsthan.
Coaching Location: JNV Bundi, Rajsthan. (IIT-JEE 2014-16).
Note: This is an exact reproduction of the essay sent to us.