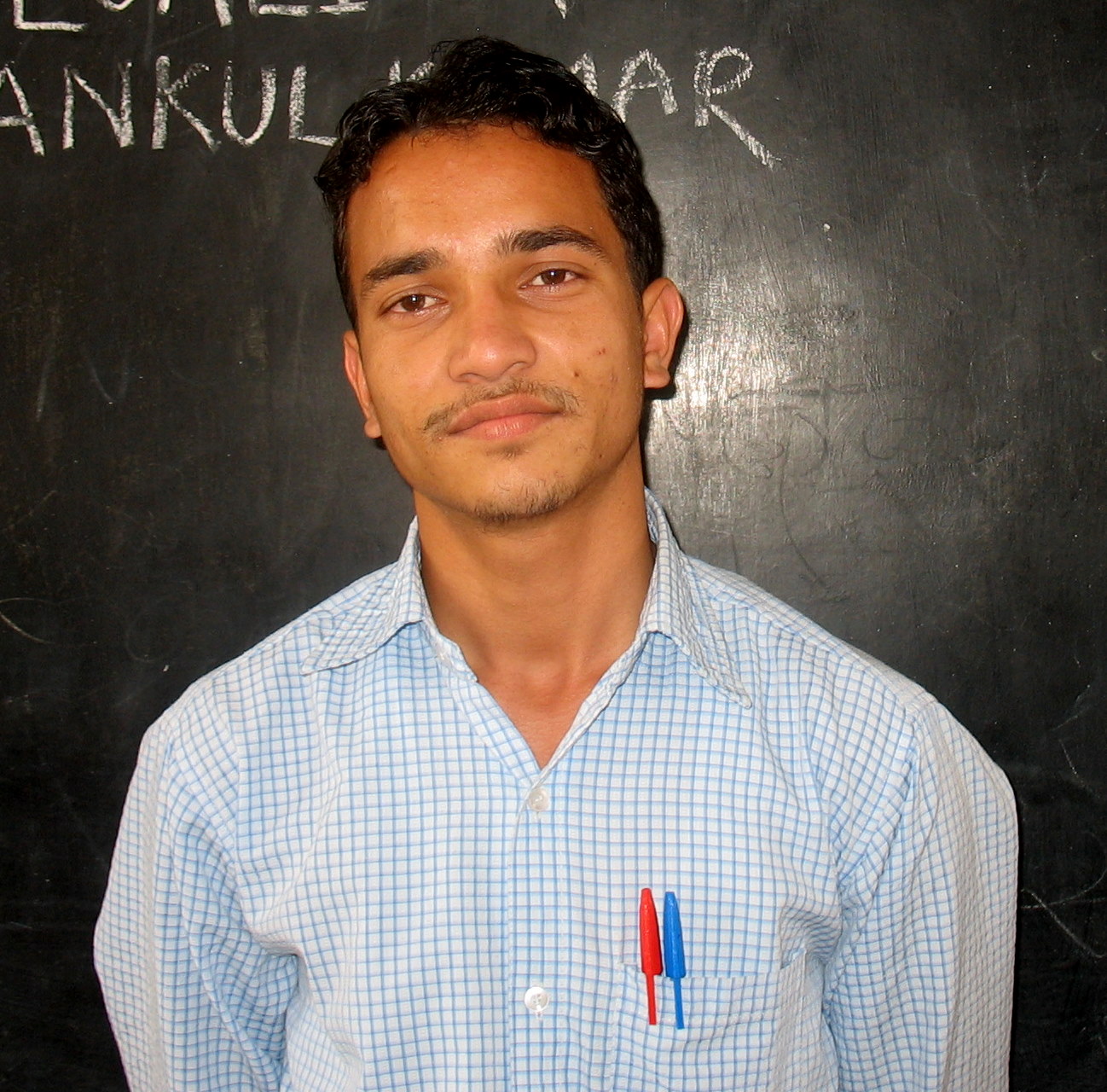 Ankul Kumar
JNV Aligarh
I'd like to become a Dakshana scholar and hopefully attend IIT
As a Dakshana Scholar I have given right to write about myself. So very very thanks to Sir.
I am a middle family student. My father Late Shri Rajendra Prasad died when I was about 5 years old. My brother Sonukumar and my mother Smt Savitri Devi are responsible for my every success. That?s about my family.
In the beginning of month March 2009 I heard that Dakshana has been closed. But when I was at home I was asked by my senior brother that Dakshana?s test will be held in July. It was the morning time and that time I was very very happy. Since I already know and had enough confidence that I would be selected in it. The cause of such confidence was ? in my summer vacation I read a topic (Trignometric functions) many times but failed to understand it at all. So to understand that I seek some books in my home, of intermediate standard. Worrying about my future I read those books of mathematics two times in about one month. Then I feel that I have some ideal about new topics. When I heard about Dakshana?s test I read them again. This was because I was very worried about my future and it was only opportunity for me because I have already decided to be an IITian but because of lack of money to get coaching I sometimes loses my confidence.
I don?t know anything about IIT till my 8th standard. When I came to know about it I feel that I should be an IITian. I told that to my brother. He also wanted that I should be an IITian. But the main problem was that how to get selected books and coaching to get knowledge enough to be selected. Some of my classmates discouraged me that it is impossible to be selected in IIT without coaching. In 10th class in my very yearning was that Dakshana?s test should hold anyhow. I was sure once I get coaching then nobody can stop me to be an IITian. Now I not only hope to be an IITian but I am trying my best efforts to get admission in IIT Kanpur. Since I want to be an aeronautics engineer, here my pleasure is on the top. I have satisfaction that I can make it better mow than that time. The most attracting things here for me are the books which are provided for Dakshana?s students whenever I see any of them I wish to read it at that instant so much informative books I never thought. In the end of my board exams I am always worrying about my future. There was no way for me to get coaching for IIT. But now I have all the things which I wanted to be selected in IIt.
When I came to this school, I feel very very happy. About 10 days the remembering of my native place and school seized me time to time and my face became sad. But when the faculties of TIME started teaching us, never till now again I remembered that if I will be at home or school. Teachers of TIME are well that I never thought I have been taught by such teachers. Actually I have faith in self-study but here I was able to understand the importance of teachers in my life. Now I have very much respect for every teacher.
At last thanks to the founder of Dakshana who gave me a biggest opportunity to fulfil my mother?s, brother?s and my own aim I cannot be indebted of him anyhow. Now I am studying very well and doing very hard work that I never did in my past. Now to fulfill the aim of Dakshana?s founder and persons related to this I am trying my best. I have confidence which pushes me to do more beneficial to me only. Now I also wish to serve my country like others do.
Thanks to Sir Col Ram K Sharma
Thanks to God!
From JNV Aligarh, Uttar Pradesh.
Coaching Location: JNV Bengaluru Urban, Karnataka. (IIT-JEE 2009-11).
Graduated from: IIT Kharagpur, West Bengal
Stream: Electronics & Electrical Communication
Placed at: Shippable
Designation: Software Engineer
Note: This is the exact reproduction of the essay sent to us.
Coaching Location: JNV Bengaluru Urban
Batch: JEE 2011
Graduation College: IIT Kharagpur
Stream: Electronics & Electrical Communication Engineering
Company Name: Shippable
Scholar Form