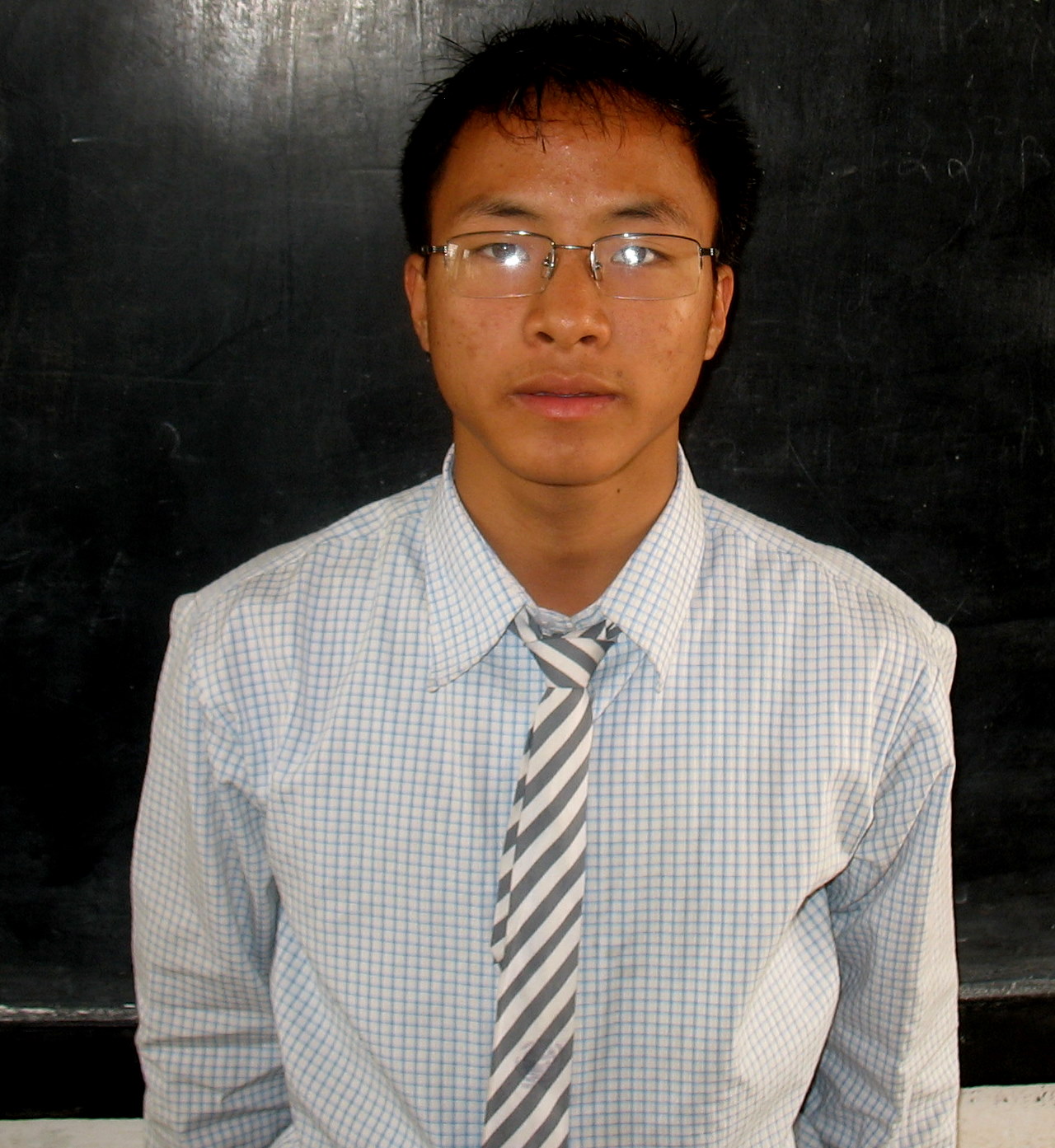 Amer Yaying
JNV West Siang
I'd like to become a Dakshana scholar and hopefully attend IIT
Sir,
First of all, I want to tell you about my family background. My father is a watchman and my mom is a housewife. I got two elder sisters and two elder brothers. I am the youngest of all my siblings. My village is in a very remote area. There is no electricity neither road facility. Bogir is the name of my village. Our real home is at Bogir but I live in Alo (a small town) where my father works. The economic background of my family was not so good. I was very thankful to the Almighty god when I was selected for studying in Navodaya Vidyalaya. It made the load of my father?s problem about spending money on me light. My father was earning very less and he was spending for four. The time running quite well. But when I was studying in class X the tension aroused. All my elders had to get enrolled in college. Subsequently, my father?s problem on spending became very heavy. He had to sold 2 fields of land, for the sake of continuity of brother?s studies. This really bothered me. I don?t know what type of thoughts was coming to my mind on the situation. Sometime, I even thought of leaving the studies and do some jobs to enhance the income of my family. Once even I talked about it to my father. But he denied my approach and asked me to continue my study.
After taking the board exam of class X (2008-09) me and my bother used to go for hunting. So that we can sell the meat and earn some money or we used to catch fish. Somehow we could collect some money spending the whole vacation in the jungle hunting and fishing so that we can buy some good study material. The school started again and I was in the school now. One evening, we were sitting for supervision study. My teacher namely Rup Rekha Sahul entered our class and told us that 16 students of our school have to take an examination for Dakshana IIT-JEE coaching. The exam was scheduled just after 2 days. It was taking place at JNV Rangia at Assam. From my school it was about 500 km only. Next day at morning 5.00am we start our journey for Rangia and we reached next day morning at 7.00 on Saturday. We studied whole Saturday and faced the Dakshana examination the very next day. After the examination was over, I prayed to God so that I would pass out the exam and so were my parents and family members. I waited for the result until one day our principal announced that I was selected for it. I was highly excited after hearing the news. I thanked the almighty God. My classmates congratulate me and they offered me a small farewell but it was full of love and attachment. I went to home and when I told it to my parents they were very happy. But though they were happy I could sense a small sadness in their heart. Because I was going to leave them and going about 2500 km away from them. Moreover the tension of China-India about Chinese claim over Arunachal Pradesh made me more emotional. For me it was uncertain that the war could broke out any day. And Chinese would attack Aalo. But I had made my mind on the basis of no pain no gain. I leaved my parents and set out for Dakshana IIT-JEE coaching at JNV Bangalur at 2pm on the first day of September. I didn?t feel like staying here for the environment was very different from my native.
But I had set my mind that had to study here for IIT-JEE 2011. One month passed. One day someone told that a person from Dakshana Foundation had come to the school. I didn?t know about the Dakshana Foundation until the day Col Ram Sharma told about it. It was an organization that was being managed by some charitable people of the society who had donated their earning for the sake of the studies of the children who have potential but are not able to explore it. Sir, I am really thankful to you all. I couldn't bid thanks to you all before. But I think I said it when I said it to the almighty god. Because I think my god is you all Sir.
From JNV Kombo, Arunachal Pradesh.
Coaching Location: JNV Bengaluru Urban, Karnataka. (IIT-JEE 2009-11).
Current Institute: NIT Surathkal, Karnataka
Stream: Civil Engineering
Yr of expected graduation: 2015
Coaching Location: JNV Bengaluru Urban
Batch: JEE 2011
Graduation College: NITK Surathkal
Stream: Civil Engineering
Scholar Form