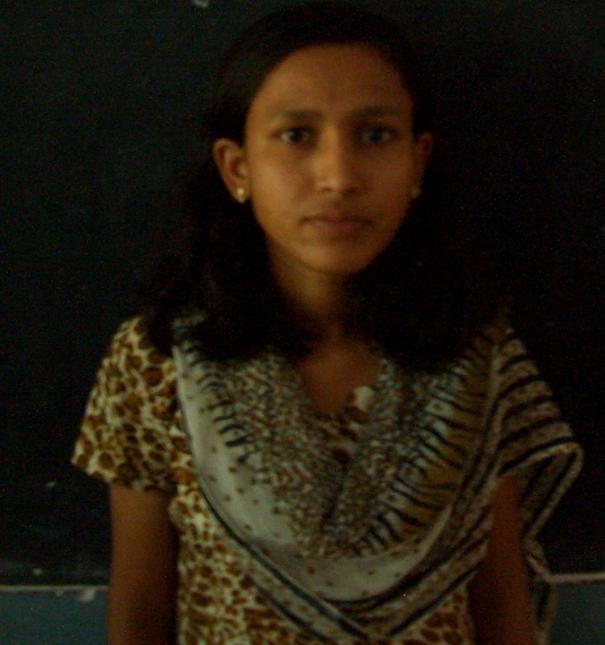 Veena A.N. Doddi
JNV Bidar
I'd like to become a Dakshana scholar and hopefully attend IIT
I am a girl of very depressed family. My mother is an Anganwadi teacher, my father nothing to tell . . .
I have one sister studying in 8th class and a small brother studying is 4th class. When I was a small girl of 5 years my father lost his job and had mental effect. Now even he don?t know where I am studying and in which class.
Just he gave birth to us and left all the responsibilities to my mom. But I don?t take this serious. My mother says ?Don?t worry my dear I will look after you as better as possible by me?. Moreover, I have completely accepted my Lord as my father. I have never experienced the physical true love of my father, never cried for anything in front of him. Only the mother in whom I am seeing both father and mother. Perhaps it is not in my fate that I will sleep in his lap. Anyway, I am completely enthusiased by my family. They give me a lot encouragement, support in my career.
Really, the point I must add in this paper is the crucial role of my beloved ?Christ.? I was competitive enough in my childhood and faithful in my god. I got selection in NVS test. This really changed my career. I was very thinking that could I be able to study English medium like my cousins. But that thought become real and J.N.V. provided me an advanced education of CBSE Board. I could not even imagine at that time. Then in JNV Bidar I did my level best to be one of the memorable student of the vidyalaya. I was good at studies, interested in sports &games, music, art, s.u.p.w. etc.
I went to migration from J.N.V. Bidar to J.N.V. Farrukha when I was studying in 9th class. There too, I tried to represent my school. But as I was growing my confidence to attain the great peark of success came down. ??In future what I can do. Nobody will support me except my mother?, thoughts which dampen my courage hit me. I become inactive in every field. Though I was not feeling actually but I felt homesick. After returning from there I could do better but not than earlier. It was 10th class. The fear of board exams too added to my worries. Just I started thinking commonly means at low ebb. Thoughts like ??If I failed in my board 10th class?? or ?if I commit suicide because of it?? really unbelievable thoughts dampen me a lot. However , I could secure 90% of marks in my 10th class. After 10th in the vacation my house was demolished under master plan by the government. This hit my mother emotionally. After few days of this event I got my result of 10th. This recovered my mother a bit because I was the first member in my family to get 90% of marks which really was not the expectation of my teachers.
Under the reservation quota I gave this Dakshana Foundation IIT/JEE Test. This test was really a boon for me. I was actually aimed at medicines. But I was sure that I will not going to be selected. In the view of not to lose the opportunity I put my level best efforts and wrote this test. Really I am the most luckiest fellow to be one of this opportunity. Many people eagerly take this course spending a lot of money but I have been given this coaching freely. Really, it is a boon for the children like me.
Many people in my region do not know about IIT/JEE though they know, they say it is the property of rich. But Dakshana Foundation made this belief false. The view of eradication of poverty through education is light for the people who are energetic, willing to effort and unable of getting into it. A lot of money has been spending for our education to attain IIT. Such service is needed for the children like me.
Education is the root to build a strong tree. That root must go as deep as it can. The children who are ready to go under depths are really in need of such nutrition to grow stronger, higher. Dakshana?s aim at facilitating such plants is appreciable. I too feel proud to learn such social service by my institution.
I will do my level best and more than my ability to fulfill Dakshana Foundation?s dream
From JNV Bidar, Karnataka.
Coaching Location: JNV Puducherry, Puducherry (UT). (IIT-JEE 2009-11).
Note: This is an exact reproduction of the essay sent to us.
Coaching Location: JNV Puducherry
Batch: JEE 2011
Graduation College: KVG Medical College
Company Name: KVG Medical College
Scholar Form