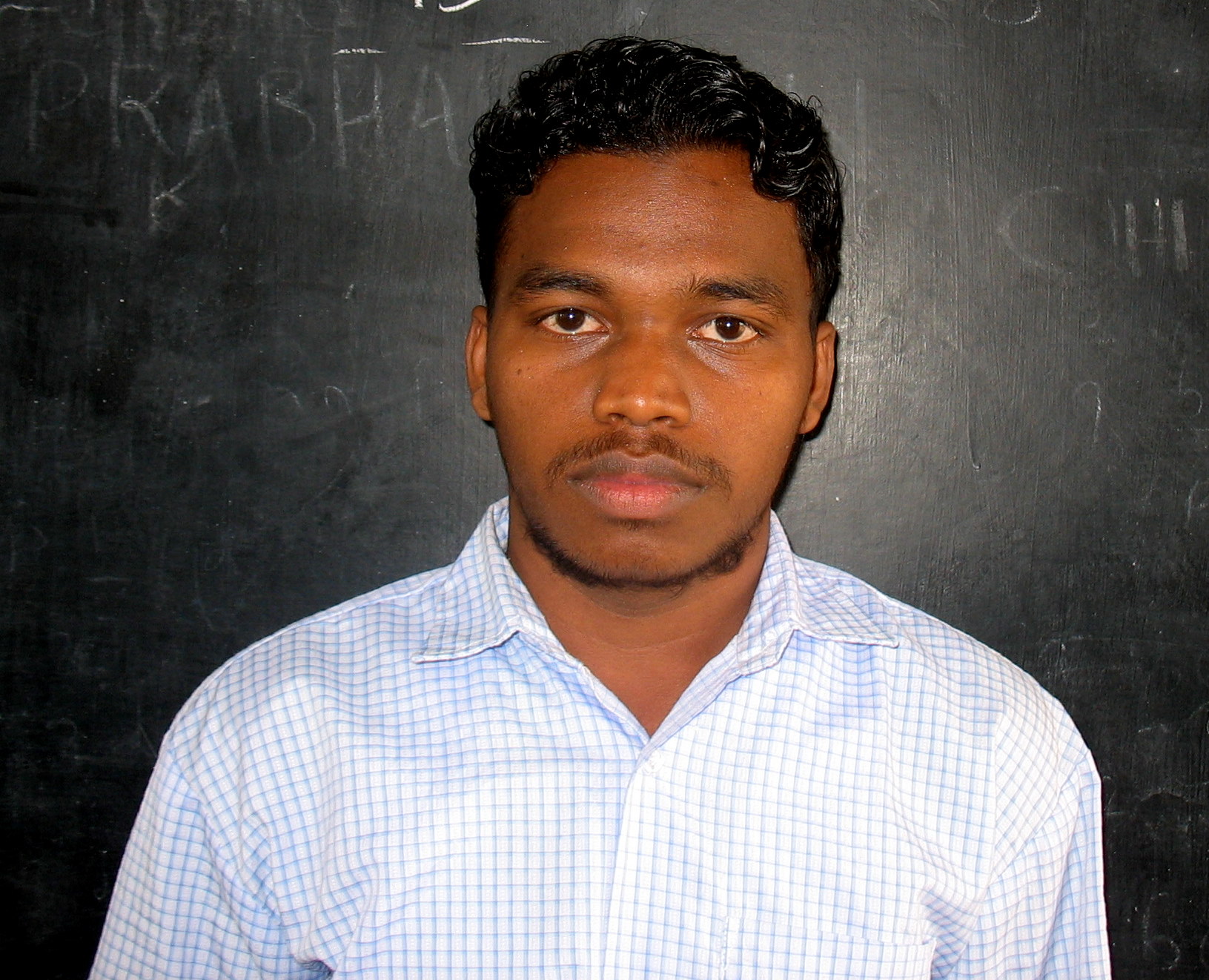 Sunaram Tudu
JNV Keonjhar
I'd like to become a Dakshana scholar and hopefully attend IIT
My Story and Dakshana
My father was always worried about my study on the other hand I was worried about his works. Since I have no mother and we are two brothers and 4 sisters my father was unable to provide education to every one so last I promised my father that I will search for any job after high school pass out then I will help him for house work and provide education to my younger brother and 3 younger sisters. My elder sister is married. Then I travelled Cuttack to find some work.When I find work really and felt so happy for the duration of 2 months of summer vacation my duty is with daily wage workers.Though I do not share my earned money with my family but I provide my youngster study materials to them. Fortunately a village primary school opened in our village Salkhudahi (Orissa) last year. Then it gives me opportunity to learn 2 years more in JNV because my youngster can go to school in village and can help my father. In the opportunity God Mohnish landed in front of me as Dakshana Foundation. Then my teacher P. K. Maharana (P.G.T Maths) told about it and inspired me to compete for it. The morning July 19 was lucky day for me. I appeared in the exams and everyone was doing sincerely but I have not prepared for the exam. Question paper was really hard but remembrance of my promise to my mother when she is alive gave me strong power, to solve every question mindfully but I can solve only 35 question of eaxh paper.There was negative work so I do not teach remaining things.
The 20th was really bad for me because every 20th date gives me sorrow. When I saw results then there was cut off by 50% students fortunately I got selected. I was quite unhappy because 2nd time my friend Ganeswar was cancelled because he is reasonably intelligent than me. The time which I have spent with my teacher in school , friend and hostel , parents in field, worker gave me knowledge about different people. This knowledge was lamp without flame but Mohnish lighten it to give away the darkness of my family background.
This is my first sem of my jounrney what can I say about my tracks since I have put only one step.Many say that world is only those who have money but I say world is for everyone only if people like Mohnish and Col Ram K Sharma can take birth in every corner of the world. God is mothing but it is a man who do share every step of life for the sake of other, who do see the burning desires of every heart , who can understand the condition of one persons. When a person worked so hard throughout his life and earned so much then tiems come for him to enjoy in old age but if he do further not for himself nor for his family but for other ( who are suffering a lot not in simple life but to schieve the apex aim which is really beyond their capacity).Then the man is called as God as Col Ram Sharma as his whole life. In providing safety to nation and rest life is to help the youngster who are scattered, carelesely in the corner of world as we were.
Dakshana can be defined as uniquely whole hearted office. It is quite different because Dakshana is given to Guru but it is given to disciple or student . So everyone can realised what can be the word Dakshana. No one can define Dakshana until and unless he thinks about such dedication. It is nothing but completely dedication.
Thought I have not seen the face of Mohnish but I can visualise his face as bright as son , as bright as Col Ram. I am quite happy because my name is Suna Ram.
My Plan : ( I will not be an IITian but must be an IITian, must be ....)
I will also help other students who are suffering like I was. Then any Indian can show his/her power in the world. India can light its lamp in the black hole. India can be India only if everyone walk on their foot and this can be possible when everyone get some opportunity and this can be possible only and only if Col Ram Sharma and Mohnish can take birth in every corner of India, then dusk and dawn appear bright.
From JNV Keonjhar, Odisha.
Coaching Location: JNV Bengaluru Urban, Karnataka. (IIT-JEE 2009-11).
Graduated from: IIT Kharagpur, West Bengal
Stream: Mechanical Engineering
Placed at: Fleet Management Limited Hongkong
Note: This is the exact reproduction of the essay sent to us.
Coaching Location: JNV Bengaluru Urban
Batch: JEE 2011
Graduation College: IIT Kharagpur
Stream: Mechanical Engineering
Company Name: Fleet Management Limited
Scholar Form