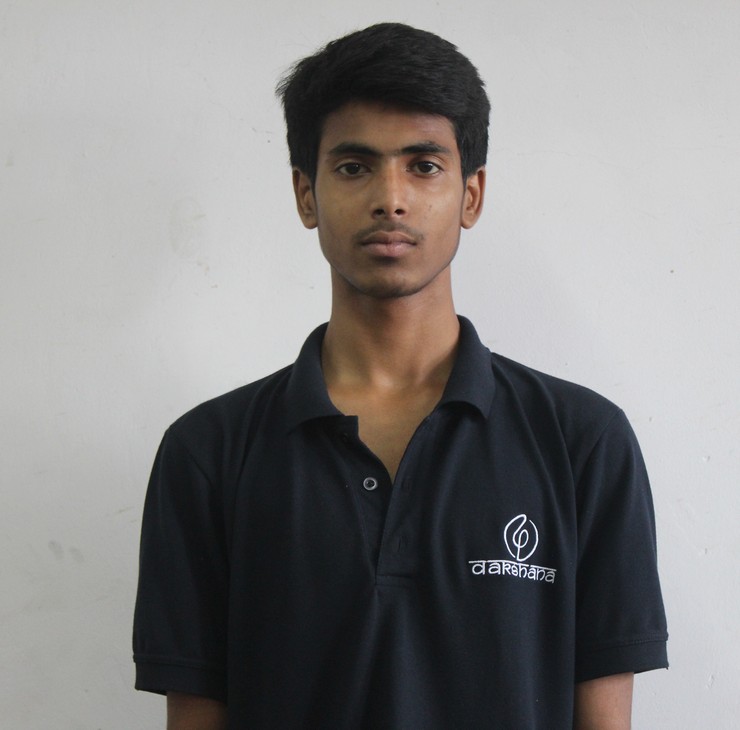 Kajol Kumari | February 27, 2020
Satyam Kumar
JNV Muzaffarpur, Bihar
I'd like to become a Dakshana Scholar and hopefully attend Medical college
Q1. Introduce your family to us?..MY FATHER IS BUISSNESS MAN. HE HAS A SHOP MY MOTHER IS A TEACHER IN A SCHOOL NAMED ENGLISH EDGE. SCHOOL .I HAVE YOUNGER SISTER .SHE IS IN CLASS 5TH NOW I HAVE NO BROTHER .MY UNCLES HAVE ALSO A SHOP .I HAVE A LITTLE HOME IN WHICH WE ALL LIVE AS A JOINT FAMILY .MY MATERNAL UNCLE IS A TEACHER & WEL EXPERIENCED IN EDUCAONL FIELD.
Q2. Why should you be awarded the Dakshana Scholarship ……………..I THINK ,I AM A BETTER STUDENT AS I HAVE BEEN SELECTED FOR APPERING IN DAKSHANA SELECTION TEST ALSO ,ECONOMICALLY .I AM WEAK TILL NOW ,I AM IN JNV WHICH IS A GREAT SUPPORT TO MY FAMILY ALSO .I WANT TO DO BEST COACHING FOR BEING QUALIFIED IN NEET ,AIIMS EXAM.SO I WANT TO BE AWARDED THE DAKSHANA SCHOLARSHIP .IF I AM NOT SELECTED I WILL CARRY ON Y STUDIES IN JNV AS THE EDUCATION OF MY SCHOOL IS NOT BAD.
Q3. What is your ambition in life ……………..I WANT TO BE A BEST DOCTOR .IT IS MY DREAME FROM MY CHILDHOOD .IT IS MY GOAL .SO, I WANT THE SUPPORT OF DAKSHANA FOUNDATION TO REACH THERE EASILY .I WANT TO DO SOMETHING FOR MY COUNTRY & THE PEOPLE.
Q4. How would you like to contribute to the society and the world when you become a successful ……………..WHEN I WILL BECOME A SUCCESS FULL DOCTOR,I WILL PROVIDE FREE TREATMENT FOR THOSE WHO ARE ECONOMICALLY DOWN .I WILL PAY FOR THEIRE MEDICINES .I WILL BE THERE IN INDIA &WORK FOR INDIANS .A PROPER TIME WILL NOT SEND THM FOR UNNESSERY TEST OR DIAGNOSIS.I DON'T WANT JUST TO BE A DOCTOR .LATER ON I WILL MAKE AN ORGANISATION FOR PEOPLE WITH LESSER FEE & BEST TREAT MENT JUST LIKE DAKSHANA
Q5. Describe an incident in your life that has motivated/inspired you to do better ……………..AS I HAVE MY UNCLE IN MY FAMILY WHO FAMILY WHO IS WELL EDUCATED ALWAYS INSPIRES ME AT EVERY MOVEMENT .BUT AS I CAME TO NAVODAYA I CAME TO KNOW ABOUT DAKSHANA FOUNDATION BY OUR PRINCIPAL SIR AND SENIORS MANY OF MY SENIORS OF MY SCHOOL ARE THERE IN DAKSHANA SO IT CAME TO MY KNOWLEDGE THAT DAKSHANA IS A GREAT INSTITUTE FOUNDATION FOR THE PREPRATATION WITH BEST FACULTIES ANDENVIRONMENT SO, THAT TIME ONLY I THOUGHT TO GET ADMITTED IN DAKSHANA I FEEL THIS NDST IS MY PRE NEET.
Q6. Tell us about your interests and hobbies ……………..I HAVE INTEREST IN KNOWING EVERY THING THAT I CAN UNDERSTAND BECAUSE KNOWLEDGE NEVER GOES IN VEIN. MY HOBBY S TO SING AND LISTEN SONGS.