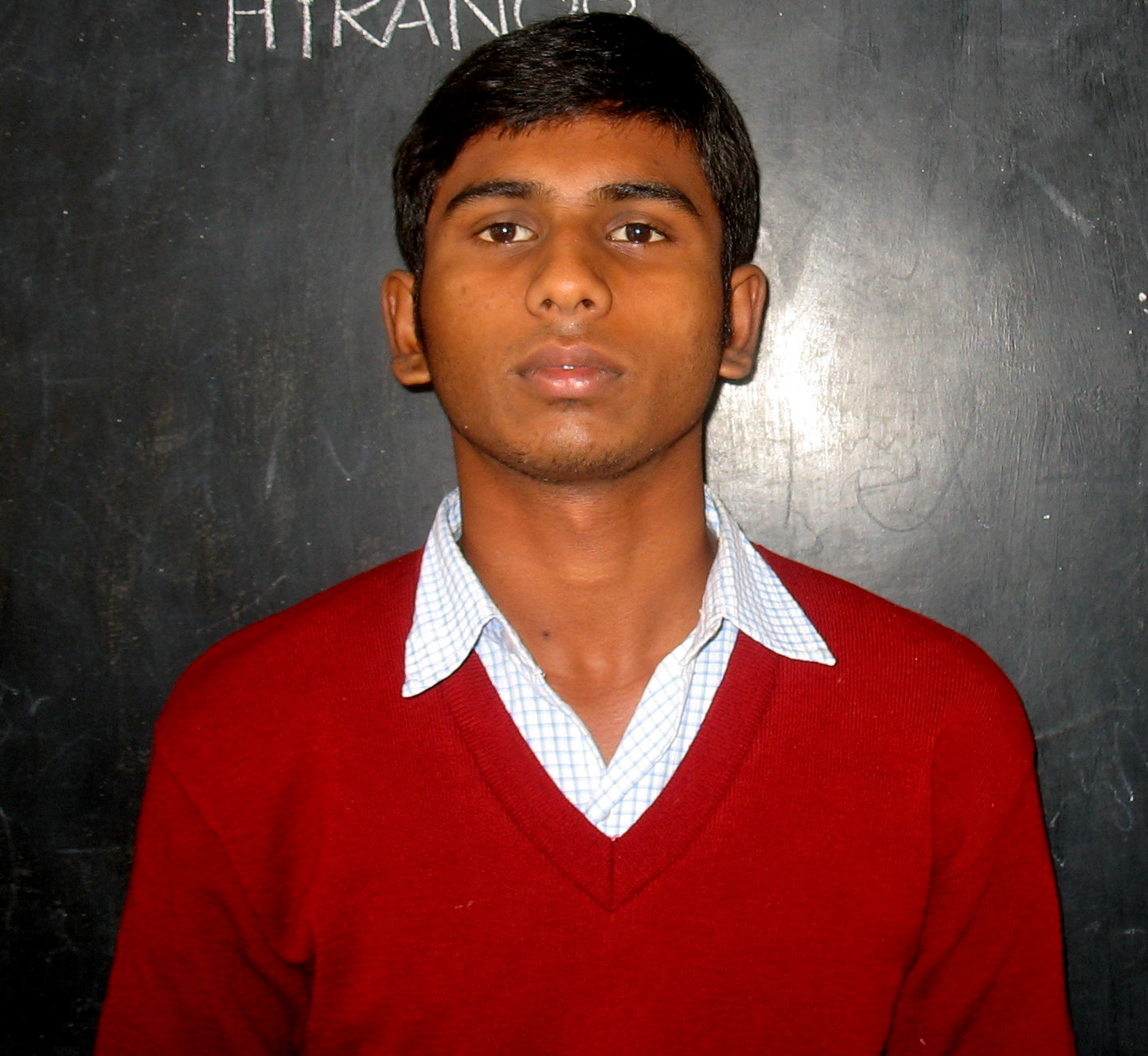 Rahul Yeluri
JNV Ranga Reddy
I'd like to become a Dakshana scholar and hopefully attend IIT
02.10.2009
I am Rahul, that is what everyone calls me . I am from a small family and a sweet family .My father is a supervisor in a small private firm, working for an income of some 6000 to 7000/-per month . My mother is a house wife and small brother of 7th standard . My family resides in a small rented house of two rooms with the basic needs.
From my childhood ,I am good in the studies , I used to secure some 4th , 5th position in my class , that is what I restricted myself to then I gave my first competitive exam in my life , Navodaya entrance exam. I am not very much aware of what it is going to be I just know a very little about the Navodaya thing I just wrote it and I got through it .
I joined the navodaya , that day all my new friends are in tears not all but few . But I was not so. It was just , something like amazing to me I don?t know what was I at that time , but i was liking the things going on .
I have completed 5 successful year in my navodaya . My 10th class didn?t go too much well but I got 89% in the tenth of course that?s too less.
I think in my 9th standard, I came to know about this Dakshana thing . of course not completely . From my school one brother go this scholarship in the first year of Dakshana scholarship . The Later year , two brother go it then it was my batch`s torn . Due to recession , on intimation of this exam was given initially . Everyone thought that there would be no exam at all. But to everyone surprise it was counducted later on , and actually I could make through it .
About this IIT I was not interested in this thing at all initially. I got a book named Psychology of success at IIT JEE by Anuj Khone . that has completely changed my way of thinking about IITJEE I was very much impressed about this IIT and I wanted to get in to this IIT.
At the same time got gave this Dakshana entrance exam . It was just a miracle .I was not expecting This in the middle of recession .
We ware intimated some 2 week before the examination I just want to get some way into this Dakshana .I enquired my seniors who gave this exam earlier , about the paper . I referred to old textbooks and many other books. I prepared well for the exam.
On July,19th I gave my exam , until than I was cool but just before , a two three minutes before my heart heat started to go up suddenly .I was tense my first paper was mathematics & mental ability . I didn`t done well with this paper .I wanted a lot of time with my paper and after interval we had our second paper . that is Physics and chemistry .I just rocked the paper .After the exam I was a hit confident of getting through this exam but didn`t express my feeling with anyone and later I could actually .do this ,I got into Dakshana .I am really very much fortunate.
Dakshana is giving me this much resources , this much help . Fact is that without getting into Dakshana I could never even had thought about all there .My economic back ground would never had supported me this . God has been giving a lot of boons to me at every step of my life. I am now very near to my aim , very close to my aim .For that I have to cross though the greatest was of IITJEE . Some time I that I could get through this very easil . I feel some times less confident of myself when I could not understand any topic in the class or I could not solve any problem. I am not a easy going kind of person .Some time I feel I very challenging actually to compete thousands of India and I feel like cracking topping the chart . But I know that some how want to get into the IIT, India`s Top most institutions .I don`t want the name that I got into this because of reservation or something I want to show the world what Rahul is
I`ll give my best shot at the bull`s eye.
Hoping the best and want to be the best.
I am very very much thankful to the Dakshana Foundation &founder , Mohnish sir and I am also very much thankful
From JNV Ranga Reddy, Telangana.
Coaching Location: JNV Bengaluru Urban, Karnataka. (IIT-JEE 2009-11).
Current Institute: IIT Kharagpur, West Bengal
Stream: Mining Engineering
Yr of expected graduation: 2015
Note: This is the exact reproduction of the essay sent to us.
Coaching Location: JNV Bengaluru Urban
Batch: JEE 2011
Graduation College: IIT Kharagpur
Stream: Mining Engineering
Company Name: Crishikr
Scholar Form