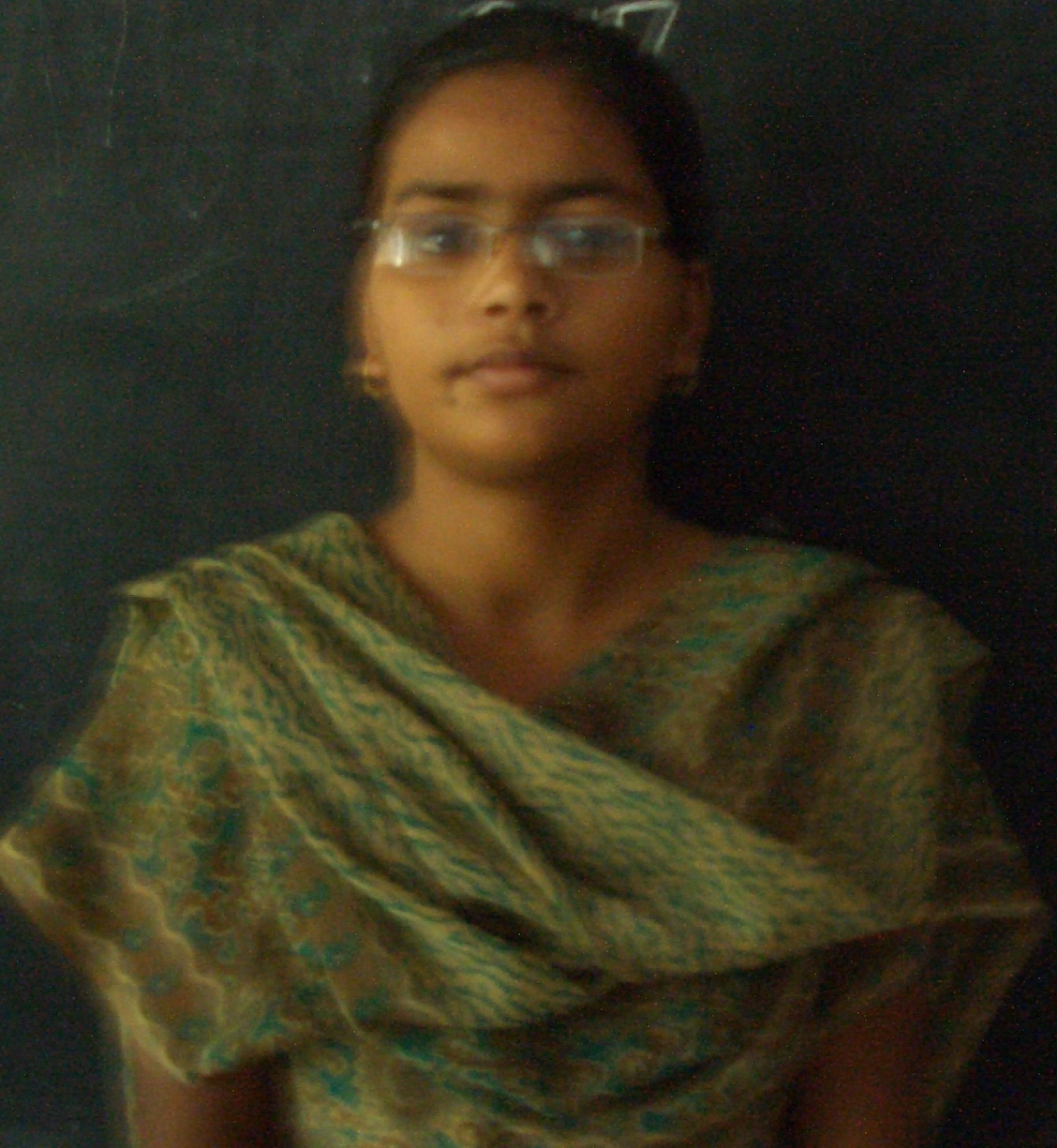 Priyanka Adsul
JNV Pune
I'd like to become a Dakshana scholar and hopefully attend IIT
I am Priyanka Subhash Adsul, from eleventh class. I belong to J.N.V. Pune, which is iin Maharastra. My mother's name is Meena Subhash Adsul. She is a tailor as well as a teacher. My father's name is Subhash Adsul. He is a farmer.
I do not belong to a rich family. In our home, my mother takes care of us all. I am a daughter for my father and mother. My mother and father work so hard to keep me in a very good manner. They are very proud of me, because they think, "In our whole family, my daughter will take a very high post one day." Their expectations for me are very high.
I already knew many things about the Dakshana institute. I was familiar with this because in our shool, J.N.V. Pune, there had already been batches. When the first batch started, I decided that I also wanted to join the Dakshana coaching classes. So I waited for the Dakshana entrance exam. When I wrote the entrance exam, I had many hopes within me. I waited for the result of the exam. When the result came in front of me, I could not believe I was selected for the Dakshana coaching class. That was one unforgettable moment for me. In our school, we had all seen the work of the Dakshana class and Dakshana's faculty. It is very systamatic.
The first time Oberoy sir came to our school to visit all the Dakshana scholars, I got a lot of inspiration, which is still with me. At that time, I fixed my aim. I decided to become an IIT engineer. It is too high a post, according to my friends, me, and my whole family. My friends are also always talking about the institute. The say to me, "Priyanka, your are a lucky girl to get coaching for IIT/JEE in a big coaching institute like Dakshana."
When I was selected for the Dakshana coaching class, my aim became fixed on becoming an aeronautical engineer through IIT. I am interested in that field, and also, there are fewer people going towards that field. I am very much interested in doing different things from others, because that is something different, something special. I always remember the sentence "you can win" by Shiv Khera. He says, "Scholars do not do different things, but they do them differently." So I think that I have the key of success.
All the time, my family, my origin, my mother's face, my father's hopes give me inspiration to go towards the peak of success and not come back. Now I feel that the peak is not far away from me. I only want one step to get there, but that one step is so big, so difficult. It also takes a lot of hard work because that is the main step. But I think that without hard work, no one will get flowers of scent. Those people who run away from hard work get spikes which are very harmful.
Because of all these things, my ambition, my aim is always different, something special. I want to take care of my mother and father in a very good manner. With hard work, I think that I will get into IIT. So my hopes from Dakshana encourage me and also give guidance because of one sentence: "A hundred words of congratualtions is very much less than one word of inspiration when we fail."
I give a promise to you that I will become a Dakshana scholar student who gets a position in IIT, because now my aim is that. With my hopes,
Thank you
From JNV Pune, Maharashtra.
Coaching Location: JNV Puducherry, Puducherry (UT). (IIT-JEE 2009-11).
Graduated from: Sinhgad College of Engineering, Pune, Maharashtra
Stream: Mechanical Engineering
Placed at: Cummins Engines
Designation: Assistant Manager
Note: This is the exact reproduction of the essay sent to us.
Coaching Location: JNV Puducherry
Batch: JEE 2011
Graduation College: Sinhgad College of Engineering
Stream: Mechanical Engineering
Company Name: Cummins Engines
Scholar Form