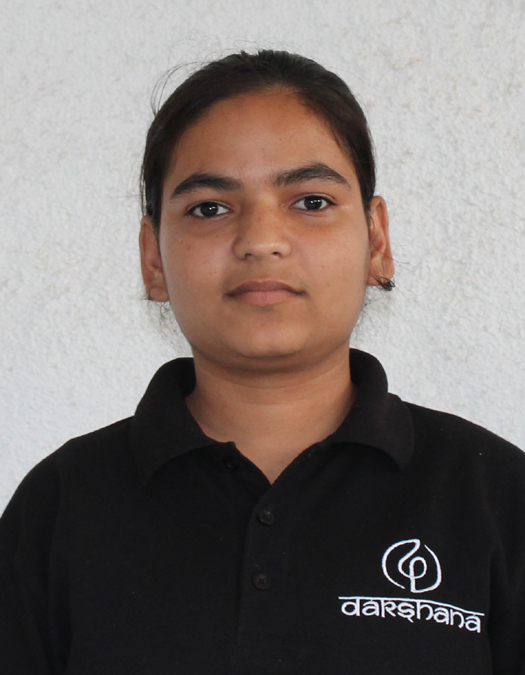 Pooja Gupta
Girls High School, Aligarh Muslim University , Aligarh
I'd like to become a Dakshana Scholar and hopefully attend Medical college
I would like to become a Dakshna scholar and hopefully attained Medical college because I would like to become a doctor.This is my early childhood dream.No doubt ,this carrer is of my choice but,the main problem is the economical condition of my family.
My family condition is not so good that I can afford any private coaching for medical preparation.so,Dakshna will be a bright choice for me to change my future.Sometime before I was drpped the idea of being a doctor due to family economical status,but when I heard about Dakshna a way of hope arose in my mind and I again recollectad my willpower and putting my full efforts to give my best.
No doubt! Dakshna is doing a great job for those children,having unlimited potential but their talent are crushed in burden of poverty.Daksna is a path fr every poor child who wants to do something for his family and nation.I heard about Daksna from my seniors and according to their guidence and explanation ,Dakshna will be a way to successfor me.
Many of the students has joined Dakshna and they are at top in their field.I have no words t apreciate the work of Dakshna.Daksna is a whole world for me .I have four sisters and 2 brothers in my family .There is nobody to support me for coaching and higher education ,so Dakshna will provide a way to success .My father and my mother told me to work hard, so I donot have to work like them .Many students are dream to become a Dakshna scholar.I am very lucky that I am selected .
Dakshna is a gret oportunity for me and I will work hard to achieve my and my parent's dream.Dakshna is India's best institute which gives 100%result .When I will in NEET ,I will choose a good line to become a doctor and this will be like a dream come true.
THANKS DAKSHNA..............
From Girls High School, Aligarh Muslim University , Aligarh
Coaching location: Dakshana Valley Pune, Maharashtra. (NEET 2017-2018)
Coaching Location: Dakshana Valley
Batch: NEET 2018
Scholar Form