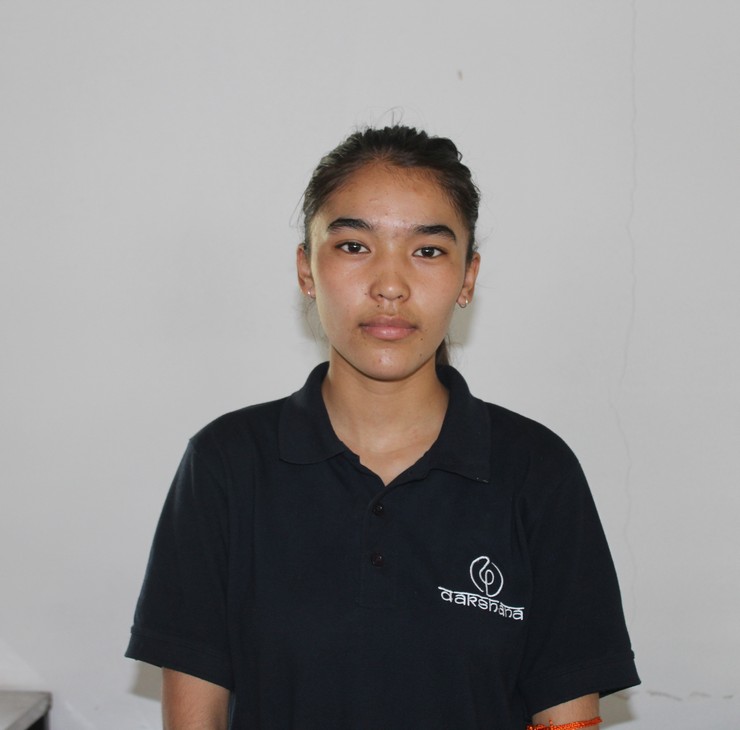 Kajol Kumari | May 21, 2020
Dolma Lozes
JNV Leh, Jammu & Kashmir
I'd like to become a Dakshana scholar and hopefully attend IIT
Q1. Introduce your family to us ?….My father name is Sonam Rigzin.He is ex-serviceman.He is a very simple man.He don't talk too much.He is little shy type of person.Whenever we demand something he tries to best to fulfill it.My mother, her name is Deachan Angmo, she is housewife, do all the household chores and cook food for all of us.Her food are always tasty.But she is little bit short temper.And i have on elder sister, her name is Rigzin Dolker, she is doing her masters in PU.We fight with each other alot.But she has many things for me.They expects alot from me.
Q2. Why should you be awarded the Dakshana Scholarship ……………..I want to be a Dakshana Scholar as it provide scholarship for 1 year program.I have heard lot about Dakshana foundation, for me it is platform through which I can fulfill my dreams.I want to do my engineering course from iit and dakshana is helping me to do it.Now ,I wanted to be a part of Dakshana.If i am not selected to be a part of dakshana, it will be very disappointing.But I will still try my best to do it.
Q3. What is your ambition in life ……………..My aim is to become a successful and resourceful engineer.As I wanted to become a asset for the nation and my family.Today our generations goes to abroad for their career, but they don't realise that if their talent are used for our country, our country will be no less than other developed countries.Our talents are used by foreigners to developed themselves.I want to become an engineer and want to serve my country as well as my parents.
I want to develop my society as i think it is not fully developed as others are.We have still much to do and lack many things.When i will become a successful, i will definitely do things which will be beneficial for our society.Because today's generation think only about themself, they don't care about what will become of our society.I would like to do mainly for the poor people who doesn't have facilities like others in our country.
Q5. Describe an incident in your life that has motivated/inspired you to do better……………..Whenever i saw poor people living in poor conditions and bad facilities , it motivates me to do better and be someone who is helpful for them.Whenever i heard our country is still not developed it is still called developing country, motivates me to do better for my future and for my country.
Q6. Tell us about your interests and hobbies ……………..I like to solve puzzles, suduko when i am free.Gardening, reading novels and listening musics are my hobbies.
Coaching Location: Dakshana Valley
Batch: JEE 2020
Scholar Form