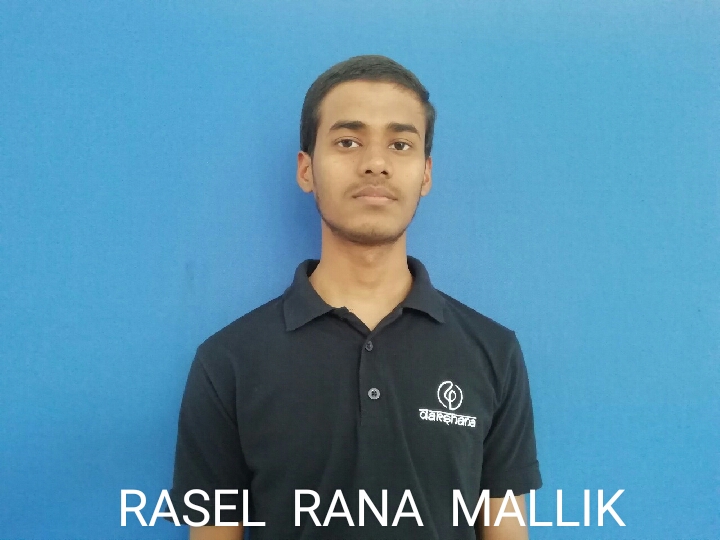 Kajol Kumari | October 20, 2018
Rasel Rana Mallick
Jnv Murshidabad
I'd like to become a Dakshana scholar and hopefully attend IIT
FOR THE FIRST TIME I HEARD ABOUT DAKSHANA FROM MHY SENIORS I WAS VERY ATTRACTED AND FROM INSIDE OF MYSELF I REALISED IT WOULD BE MY NEXT DESTINY BEFORE I JOIN IIT. I DREAMT TO BE AN IITIAN AND I KNEW MY FAMILY COULD NEVER AFFORD THAT EXPENSE FOR COACHING. DAKSHANA WAS MY HOPE AND I KNEW IF I CRACK THIS MY DOOR TO IIT IS OPENED. FROM CLASS 9TH I BECAME SERIOUS ABOUT MY STUDIES AS I HEARD THAT TO EVEN APPEAR FOR NDST YOU NEED TO BE INVITED BY DAKSHANA AND THAT WOULD BE DECIDED BY MY CLASS PERFORMANCE. ACTUALLY OUR PRINCIPAL AND MANY MORE TEACHERS WERE THERE WHOSE WORD ALWAYS BOOSTED MY MORAL. AND I LEARNED THAT NO NEED TO E SERIOUS BUT BE LITTLE SINCERE THAT COULD TAKE YOU VERY FAR. AND I FOLLOWED SOMETIMES I THOUGHT THAT I SHOULD PREPARE  VERY HARD FOR NDST BECAUSE THAT WOULD PROVIDE ME THE VERY CRUCIAL STAIR FOR FUTURE. THAT ZEAL AND ENTHUSIASM COULD DRAG  ME FOR SOMEDAYS BUT AGAIN I RETURN TO THE NORMAL CLASS WORKS, HOMEWORKS. IN THAT DURATION I BECAME THE RELIGIOUS ONE AND MY BELIEF AND FAITH MADE ME A STRONG AND CONFIDENT INDIRECTLY. IN CLASS 9TH I GOT 10 CGPA AND I WAS 2ND IN MY CLASS 10TH BOARD EXAM. AND ALL MY ACHIEVEMENTS ARE ONLY DUE TO MERCY FROM HIM. AFTER NDST, I WQAS NOT CONFIDENT EVEN, I FEARED ABOUT MY SELECTION. AS AT THE LAST FEW MOMENTS OF MY PAPER I SAW SOME MISTAKES I HAD DONE REGARDING BUBBLE FILLING AND I CORRECTED THREE OR FOUR OF THEM. SO , AFTER THE EXAM I FEARED MANY SUCH UNSEEN FAULTS MIGHT HAVE REMAINED. BUT HE WAS MARCIFUL AND I CAME HERE DAKSHANA COE BANGALORE URBAN.
FOR THE FIRST TIME IN LIFE I SAW SUCH HIGH QUALITY CLASSROOMS(CTM HALL). AND MANY MORE LUXURY DAKSHANA PROVIDED ME. ALTHOUGH I'VE NOT SEEN ANY COACHING  INSTITUTE BUT I CAN SAY COFIDENTLY NO ONE CAN OFFER SUCH AN EXCELLENT COACHING FOR JEE LIKE DAKSHANA. I'M VERY MUCH THANKFUL TO NAVODAYA AS THAT WAS MY FIRST PLATFORM WHICH LAUNCHED ME TO A MORE PRESTIGIOUS PLATFORM DAKSHANA FOUNDATION. I'M GRATEFUL TO DAKSHANA AND I'LL MESSAGE TO ALL MY FRIENDS FROM JNV TO TRY  FOR DAKSHANA.
Note: This is an exact reproduction of the essay sent to us.
Coaching Location: JNV Bengaluru Urban
Batch: JEE 2020
Scholar Form